Welcome to Funtastix Party & Event Rentals
Proudly serving Delaware, Pennsylvania & Maryland since 1997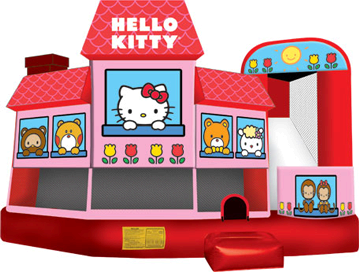 Thank you for taking the time to visit Funtastix.com! We've been serving the Delaware, Pennsylvania and Maryland area for over 18 years. Here you'll find the best selection in event and party rental equipment in the tri-state area. Awesome water slides, bounce houses, amusement rides, obstacle courses and concessions are just a click away.
We've made making your rental reservation a snap; or should we say a click? You can start a reservation anytime by clicking the "Book Online" button above, and select your dates and time. Or you can browse through our inventory for just the right item and click the "Add to Cart" button. Either way, we're ready when you are, because the "Fun Starts Here"!
Check out the Hello Kitty Combo Bouncer >>>
Sports Fans Get Ready
The All Star Arena is Ready to Rock!
At 140 square feet, the All Star Arena bouncing area is much larger than other combo units. It also includes a Basketball Hoop inside to give the kids another fun activity to do. Top that off with 13' slide with a 50 degree sliding angle (even the 13 year olds will have fun) and you've got yourself a sure winner!
There's a completely enclosed sun-screened mesh cage over the entire top and sides of the slide. In addition, this combo was designed so that kids cannot stand up and jump off at the top of the slide preventing any unnecessary accidents. With our front loading Slide, you can supervise the entire ride from the front of the unit. All this in a 15' x 15' footprint.
<<< Checkout the All Star Arena